Why Buy a 2022 Ford F-150 Lightning Electric Truck | Topeka, KS
Have you heard the buzz about the 2022 Ford F-150 Lightning? The first-ever all-electric Ford F-Series truck is shocking the system and changing the way people think about EVs. Arriving at Laird Noller Topeka Ford in spring 2022, the F-150 Lightning checks all the boxes you want in a reliable, durable, and intelligent family vehicle.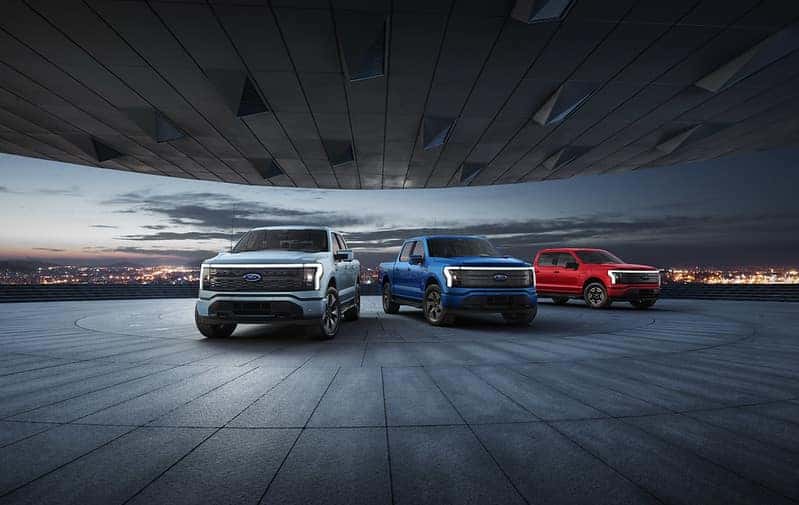 Built Ford Tough®
The hallmarks of the Ford F-150 are toughness, strength, and capability. This doesn't change one bit with the 2022 Ford F-150 Lightning. Ford powers the F-150 Lightning with a dual-motor 4×4 system that enables incredible power and prowess.
With extended-range battery models targeting 563 horsepower and 775 lb-ft of torque, this is the mightiest F-150 yet — even more so than the impressive F-150 Raptor. And it's the quickest, too, capable of going from 0-60 mph in the mid-four-second range.[1]
That muscle translates to the exact kind of power you'd expect from an F-150. A properly equipped Ford F-150 Lightning will be able to tow up to 10,000 pounds[2] or haul up to 2,000 pounds of payload.[3] That's plenty of strength for weekend adventuring, working with standard metal skid plates and underbody protection that let you do it all with confidence.
Confidence in the clutch
If you're like most Americans, your hesitation with upgrading to an EV comes from not knowing when and where you'll be able to charge your battery. But Ford takes the guesswork out with the 2022 F-150 Lightning by offering impressive range and convenient charging solutions.
With the extended-range battery option, your 2022 Ford F-150 Lightning is capable of going an EPA-estimated 300 miles on a full charge.[4] That's more than enough to make the trip from Topeka to Kansas City and back twice without needing to charge.
When you do need to top up at home, Ford simplifies the process with a standard 32-amp Ford Mobile Charger and an 80-amp Ford Charge Station Pro standard on extended-range battery models. When you're on the go, SYNC® 4 and SYNC® 4A offer FordPass™ Power My Trip integration, which builds stops at local charging stations into your long-distance road trip. And with the Intelligent Range feature, you'll have the most accurate idea of how much power you have based on factors like weather, traffic, payload, and towing.
A light in the darkness
When you opt for the extended-range battery, the 2022 Ford F-150 Lightning gives you the option to keep the power in times of emergency. Available Ford Intelligent Backup Power lets you feed up to 9.6 kilowatts of energy back into your home via the Ford Charge Station Pro in a power outage, helping you stay safe and secure.
With the help of Ford Intelligent Backup Power, you can power a full home for up to three days — or 10 days with proper rationing.[5] For your next camping trip, the 2022 Ford F-150 also offers an enhanced Pro Power Onboard generator, which puts out up to 9.6 kilowatts of power. That includes 2.4 kW of power available via four 120-volt outlets in the Mega Power Frunk.
Spacious, smart, and safe
Ford is all about breaking conventions, and that's one of the main reasons the 2022 F-150 Lightning is also a great choice for growing families in Topeka. With the all-new F-150 Lightning, you get comfortable accommodations for up to five people that make this truck ideal for shopping trips, vacations, and everything in between.
The 2022 Ford F-150 Lightning also has you covered when it comes to safety thanks to standard Ford Co-Pilot360™ 2.0 technology. This suite of standard driver-assist safety features keeps you protected whether you're driving around Topeka or hitting the highway. Part of this suite is available BlueCruise, a groundbreaking feature for Ford that allows you to travel on more than 100,000 miles of Hands-Free Blue Zones with your hands off the steering wheel.
Arriving next spring in Topeka, Kansas, the 2022 Ford F-150 Lightning is poised to be yet another game-changer from Ford. You can reserve yours online at Laird Noller Topeka Ford or give us a call to learn more about why you need to give this amazing truck a look.
[1] Targeted performance reflects current status based on analytical projections consistent with US Automotive publication processes. Final performance times will be available in the 2022 calendar year.
[2] Max towing on Pro, XLT and LARIAT with available extended-range battery and Max Trailer Tow Pkg. Max towing varies based on cargo, vehicle configuration, accessories and number of passengers.
[3] Max payload with standard-range battery and 18-inch wheels. Max payload varies and is based on accessories and vehicle configuration. See label on doorjamb for carrying capacity of a specific vehicle.
[4] Based on full charge. USA EPA-targeted range reflecting current status based on analytical projection consistent with US EPA combined drive cycle. Actual range varies with conditions such as external environment, vehicle use, vehicle maintenance, lithium-ion battery age and state of health. Final EPA-estimated ratings available in 2022 calendar year.
[5] When home is properly equipped and home transfer switch disconnects home from the grid. Based on 30 kWh use per day using the F-150 Lightning with the extended-range battery. Your results may vary depending on energy usage.